Shab e Arus, Master of Love; Mevlana Jaluluddin Rumi's night of Union  corresponds to the Gregorian date, December 17th. The lunar or Hijra date of his birth corresponds to the 6th of Rabiul Awal. The chances of both solar and lunar dates to align on one's birth and death date are one every few decades or even centuries. Today, these two dates coincide marking the birth and 'death' of Jalaluddin Rumi as ONE. Traditional teachings state the passing of a saint translates to Divine Union or the "wedding night" of the beloved where soul reunites with his Lord. How magical, mystical, beautiful that today the lovers of Rumi can actually live to experience the alignment of such a date. Next year and the coming years will not be the same in terms of numerics. Hence, as per the instructions of our noble Master and guide who transmits guidance from the realm of love, today is a day of great alignment for those who seek it through the love of Mevlana Rumi.
Great avatars were sent to heal humanity and enlighten souls, penetrating hearts in a way indescribable through words. Mevlana Jalauddin Rumi reigns as the Greatest teacher of Love, the King of Love, The Heavenly Poet whose poems transcend time and space and speak to every seeker.
Rumi is for every season and for every heart
Qudra Healing, a student of the  Mevlevi Way of Mevlana Rumi was initiated into the  mystical order via a Dede; an authorized conduit of the Mevlevi Order of Rumi. He summoned her to take the pledge of allegiance in the order through Owaisi (telepathic) initiation. Feeling at home once again, Qudra explains that from childhood up till present, she can connect the dots, experiences and openings which resonate to the Shams Rumi Phenomena as she coins it.  "To say in the least, it donned upon me just a few days ago that my lunar birthday, 6th Rabiul Awal, coincides with Mevlana Rumi's lunar birth date"says Qudra.
Instructions for Love Alignment December 17th,2015
Asana –Meditation Position
Select a place of solitude indoor or outdoors with no distractions.
All positions require an upright posture keeping spine straight at all times.
Lotus Position
Cross Legged
Kneeling position
Mantra-Chant
Eyes Open and immerse your gaze onto one of the two images below, till you feel an imprint on your heart. Closing your eyes, seeing the same image.
Recite: HU (Huuu)
Breathe in through nose:  Huuu-Visualize Inhaling Divine White Light entering into your entire being. Absorb.
Breathe out through nose: Huuu-Visualize Exhaling Darkness within exiting your being.
Alternate image in your next meditation.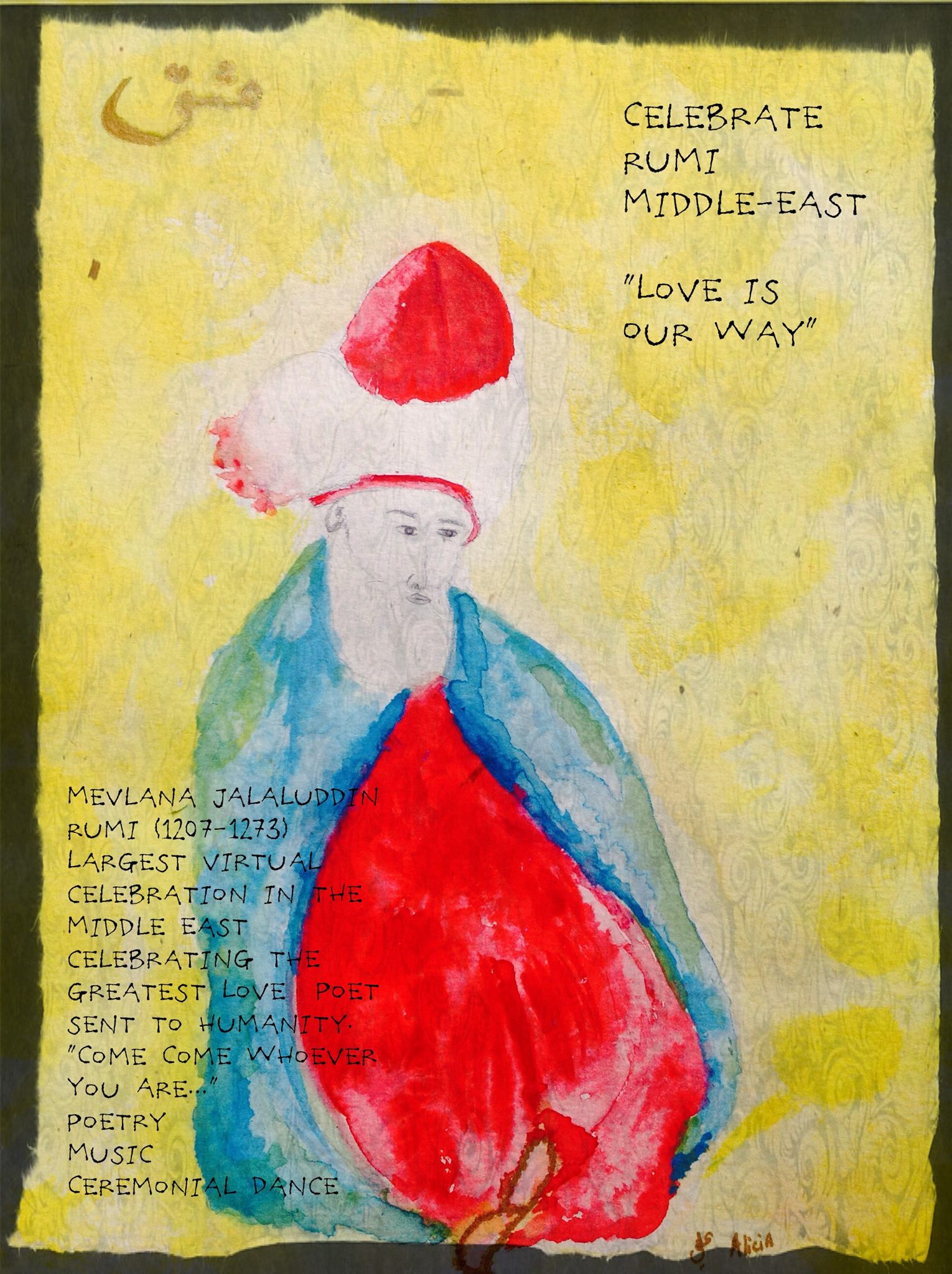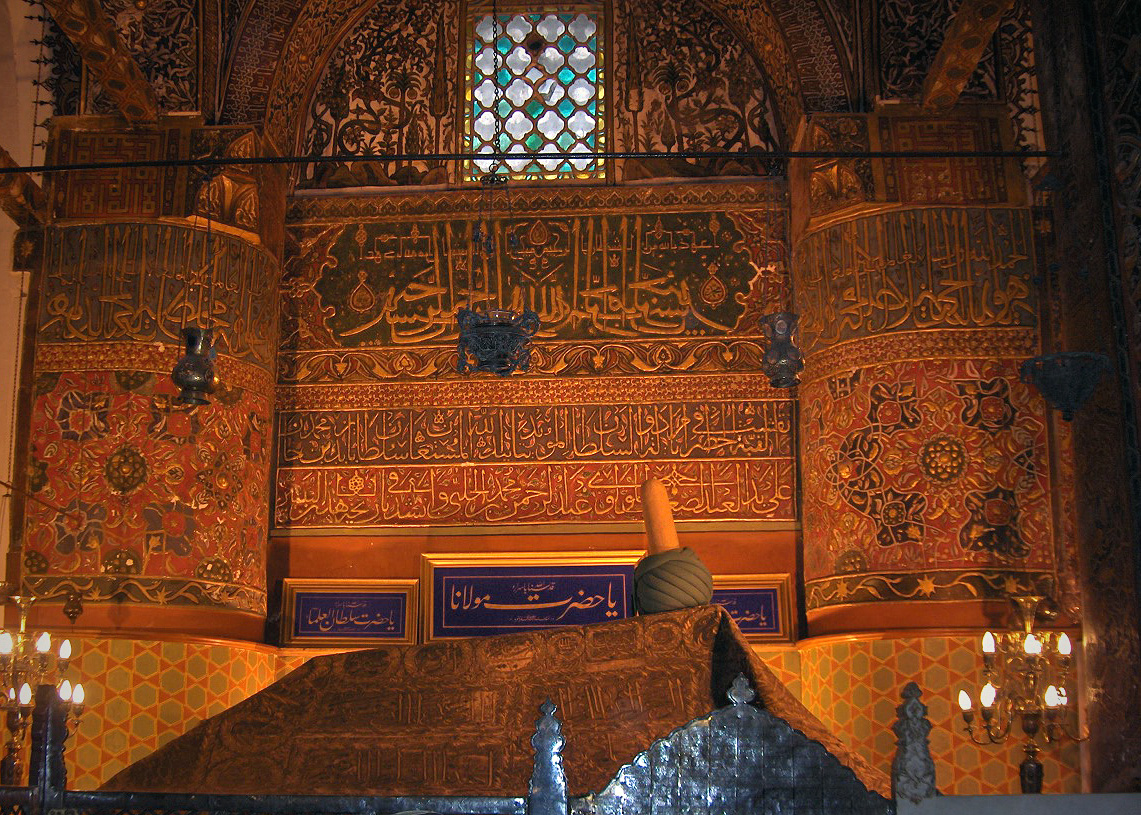 Mudra-Hand Position
When we connect the index finger and thumb we begin to feel the pulse of the heart, and our focus now becomes the heart, and Divine says, "I cannot be found on Heavens or earth, but I can be found in the heart of My believer." That connection opens the flow of Divine power, what we call "Qudra"
Hu Hand Position: Bring together your index finger and thumb forming a circle. Palms facing down resting on your legs, or palms facing up resting on your legs.
Duration: Continue to inhale and exhale HU until your heart feels full of light and contentment.
Prayer:
Closing Prayer for Mawlânâ Rumi:
A disciple of Mawlânâ's named Ikhtiyâru 'd-dîn "…saw in a dream that God– may He be glorified and exalted– gave a prayer [du`â] for the deceased [Mawlânâ Jalaluddin Rumi] with this expression:
"O Allah, be merciful and kind toward my chief, my reliance, my shaykh, the place of the spirit in my body, the provision of my today and tomorrow, and Our Master [Mawlânâ], the Glory [Jalâl] of the Truth [ul-Haqq] and the Religion [ud-Dîn]! And upon his fathers, his ancestors, his mothers, his children, his successors, and his followers until the Day of Resurrection!"
allâhumma 'arHam wa taHannan `alà sayyidî wa sanadî wa shaykhî
wa makâni 'r-rûHi min jasadî wa Zakhîrati yawmî wa ghadî wa
mawlânâ jalâlu 'l-Haqq wa 'd-dîn wa `alà âbâ'i-hi wa ajdâdi-hi wa
ummahâti-hi wa awlâdi-hi wa khulafâ'i-hi wa atbâ`i-hi ilà yawmi
'l-qiyâmah.[Source: dar-al-masnavi.org]
Recite Surah Fatiha
Note: The above should be done prior to sunset on the 17th of December.
End.
Further reading
http://mevlana.net/mevlevi_order.html