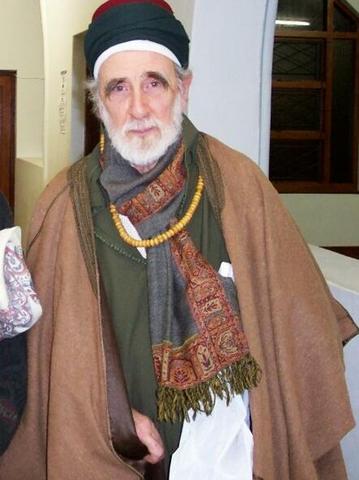 Shaikh Abdalqadir Alsufi,
was  formally introduced to us through a new seeker with our healing program. Prior to commencing, Qudra Healing, requested the seeker to follow protocol through instructions which would determine her admittance in our program. A week later, the following dream was sent to us by the same seeker. This dream opened a new connection with the famed Mystic and renowned personality, Shaikh Abdalqadir Alsufi, formerly known as Ian Dallas.
The dream below was sent to us a few days back.
I came to your house. Your house was decorated with terracotta like colours. Vases and Moroccan colours. I was brought into your sitting room where I met your sister too. We discussed birds. And you led me outside to observe this certain type of bird swooping in the sky. The bird looked like a grey pelican of some sort. And tbe subject of the birds gave me joy and brought a sense of enlightenment. 
That's when my husband and Shaykh Abdul Qadir  entered your home and they didn't want to disturb us but they gave off an energy that they supported us. And so they sat in your lounge and engaged in a meditation as a spiritual charity for us. 
You, went to meet the Shaykh and engaged in explaining what you do etc.. you then went on to discuss possible collaborative efforts  the Sheikh and yourself would work on as yet another act of charity and upliftment for the Ummah. 
You entered the sitting room looking delighted at the thought of what was to be achieved in the name of Allah, Most High. 
You were very pleased that we met and that Allah brought Shaykh to your door. And I was so pleased because I was still feeding off the enlightenment of the session we've had. And I knew at that moment I was blessed. I was in the place of destiny, not fate.
The strange part of the dream was my attire. I was dressed in a three quarter feminine-flowy dress. And for this reason, I never went to greet Shaykh Abdul Qadir. I had the shame of modesty overcome me. 
I woke up immediately. Feeling my  Being had been penetrated with a powerful force of Source. I had no doubt that I had received my answer…
Peace and blessings
Nov 24th, 2016